7 Ways to Ensure Secure Payment Processing in Residential Construction


Why Is Security Challenging for Residential Builders?
Payment processing is more complicated in residential construction than in many other businesses. In addition to the usual accounts payable tasks, home builders must deal with scheduling and processing progress payments and estimating and managing costs on projects that are anything but uniform. Plus, since diverse projects require different teams of local and special subcontractors, residential builders are contending with an ever-changing cast of vendors, each with their own payment information, including terms, schedules, banking information and preferred forms of payment.
These complexities make protecting the interests of all parties involved very difficult. Fraudulent payments are harder to identify and authentic payments can get lost, duplicated or delayed. Any of these problems can result in financial losses, unhappy vendors and/or costly project delays.
Since residential construction companies chronically run on low profit margins, making payment processes as efficient, accurate and secure as possible is critical. Fortunately, the right payment management software solution can help.
General Payment Processing Best Practices
Unfortunately, the most common type of fraud in the construction industry is payment fraud, especially the falsification of payment applications and invoices. More and more organizations find themselves targeted each year.
BEC (business email compromise) scams are especially prevalent right now, with more people working remotely. In this type of scam, attackers spoof or compromise corporate email accounts of employees involved in wire transfer payments. Attackers use the account to request invoice payments to vendors listed in the account owner's email contacts, but request that payments be sent to fraudulent bank accounts.
Several best practices for payment processing can increase security and also boost efficiency.
Reduce the Number of Paper Checks
Most organizations report that checks are the primary target of fraud attacks. Prevalent forms of check fraud include altering the payment amounts, issuing checks without authorization and using the information on checks to create new, fraudulent checks. In addition, paper checks require more time and money to process than any other form of payment. There are alternative forms of payment available today (ACH, Real-Time Payments, Debit Card, Wire) that are more secure, less labor-intensive and quicker to process.
Gain Transparency
A transparent accounts payable process will enable suppliers and vendors to see when payments are scheduled and made, as well as allowing home builders to see real-time payment information. This clear view makes it easier to identify fraudulent payouts quickly and gives all parties timely opportunities to flag and settle discrepancies or disputes before they cause job-related problems.
Upgrade and Automate Workflows
Automation is the #1 tool to combat business-to-business accounts payable and accounts receivable fraud. Automation reduces the opportunities for both human error and fraud, while related transparency and reporting features enable organizations to spot fraudulent transactions sooner. AP automation can reduce invoice processing time by over 80%, allowing suppliers to receive their payments more quickly and builders to take advantage of quick pay discounts. And when a builder has a reputation for fast and accurate payments, that helps in attracting and retaining high-quality subcontractors, trades and suppliers.
Avoid Email Invoicing and Payment Requests
BEC scams do not contain malicious links or attachments, which enables them to evade traditional solutions to email fraud. Employee training and awareness can help companies spot these scams, but handling invoicing and payment requests through a secure platform rather than more vulnerable email accounts is a more dependable solution.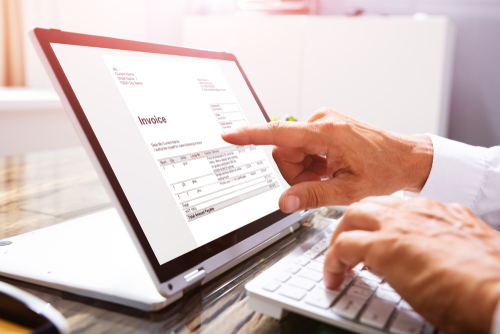 Ensuring Secure Payments Online
In addition to supporting safety-boosting best practices, a high-quality payment software solution provides extra layers of security.
End-to-End Data Encryption
End-to-end data encryption is a system of communication that allows only the sender and intended recipient to access data. Using end-to-end encryption prevents hackers or unauthorized third parties from getting sensitive and private information anywhere along the process path, from point of origin to destination.
Tokenization
Tokenization is a process in which sensitive data is replaced with algorithmically generated characters, often randomly generated, that are meaningless if intercepted by cybercriminals or any unwanted third party. A token is linked to the original data, but can't be reversed to reveal it. Only the tokenization system itself, under strict security controls, can tokenize data or detokenize it.
PCI Compliance
The Payment Card Industry Data Security Standard is a set of technical and operational security standards that must be met by all organizations that handle major credit cards. The standards are designed to protect sensitive financial account information from theft, and they are updated regularly to address emerging cyber-threats.
Fraud Prevention Tools
To attain a high level of application security, tasks should include multi-factor authentication. Any changes to profiles or accounts should be communicated via email for verification purposes.
How a Software Payment Solution Can Help
An advanced invoice and payment management solution designed specifically for residential construction companies can reduce costly and time-consuming processes, increase security and minimize mistakes. Hyphen Wallet is 100% paperless, 24/7 always on and globally compatible, with enhanced security features.
Hyphen Wallet:
Updates home builders' back-office ERP with real-time status of every payment processed to their trades.
Allows suppliers to view payment reports in SupplyPro and download them into Excel for analysis.
Gives suppliers the choice in how they want to be paid (ACH, Same-day ACH, Check, Real-Time Payment, Debit Card, Push to Card) and integrates payment methods, currencies, etc. in real-time.
Routes invoices and payment requests through a secure platform where all suppliers' payment information, including account numbers, is also safely stored.
Provides instant reconciliation — for a fast financial close cycle, cash flow visibility and less opportunity for fraudulent payouts.
Makes it easy for users to check records, track past and present expenses and identify fraudulent charges quickly.
Manual payment processing can cost you time, make fraud easier for criminals and leave you susceptible to scams. Learn more about Hyphen Wallet or schedule a demo today to consult with an expert at Hyphen Solutions.