The Value of Integrating An ERP Software With Accounting Systems
You probably already know how important careful accounting is to your Home Builder business, especially given recent trends in the industry. Equipment and material prices are continuing to rise, making a detailed analysis of all your costs is more critical than ever. With a high level of competition and shortage of skilled employees, you constantly need to be able to do more with fewer resources and depend more heavily on technology's assistance. And you need real-time actionable data to make on-time, on-point business decisions.
A good accounting software system is one of the vital tools you need to thrive in this business environment. But you also need more. You need a modern, comprehensive construction management system — ERP (enterprise resource planning) software — that can integrate with your current accounting solutions and ensure that you have all the data you need to gain complete visibility into the financial health of each project as well as across the entire business.
Hyphen Homefront is a fully integrated on-premise Home Builder ERP solution that enables Builders who complete 50-1000+ homes per year to manage the build process from sales and CRM to service and warranty in one easy-to-use system. It can also keep your accounting staff happy, which is equally important. With Hyphen HomeFront, there's no need to replace what's not broken, because it is designed to integrate with popular accounting systems like Quickbooks, Sage and Xero. And integrating Hyphen Homefront with your accounting system of choice can have important benefits.
Accurate & Immediate Sharing of Information
Every stage of the build process comes with large volumes of information, all of which are interconnected, and an accounting system is only as good as the data it tracks. Integrating an ERP with your accounting system gives you the ability to receive and transmit important data seamlessly, without repetitive data entry, missed data, human error or damaging lag time. Some of the data that can be created in Hyphen Homefront and transmitted automatically into your accounting system includes:
Budgets and estimates
Purchase orders and subcontracts
Accounts Payable invoices and purchase order approvals
Accounts Receivable and claims
At the same time, useful data can be transmitted from your accounting system directly into your ERP:
Vendors/suppliers information
Sales tax codes
General ledger account codes
Job cost codes
Job cost categories
Accounts Payable invoice payment details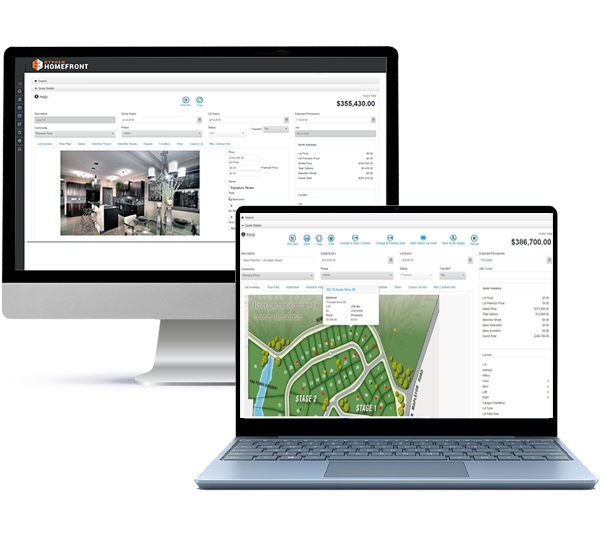 Continuous Consolidations
Excel-based consolidations and reconciliations are prone to errors and eat up valuable time, but you get continuous consolidations and real-time cash flow management with the integration of an ERP system and the accounting software of your choice.
Streamlined Processes
Having all of your processes and data digitally available and connected allows you the opportunity to automate and streamline repetitive processes, leaving your staff free to pursue strategic initiatives and critical problem-solving.
Planning and Budgeting for Growth
With all of the accurate information on projects and cost available at your fingertips, you can use Hyphen Homefront's dynamic dashboards for timely insights into your business and financial health. You can use the combined capabilities of your accounting and ERP systems to analyze your current situation, forecast into the future, plan for growth and prepare reports with actionable steps for your staff to follow.
Get The Most Out of Your ERP Integration With Hyphen HomeFront
Hyphen Solutions partners with its clients to produce innovative Home Builder and supply chain solutions. Because of our commitment to our customers — production and custom, large and small — we offer functional, flexible services that fit your business needs and budget.
Interested in learning more about Hyphen HomeFront and how it can integrate with your current accounting software? View our recorded webinar or schedule a demo to talk to a Hyphen Solutions expert about how this integration can give you all the tools you need to build homes efficiently, sell homes quickly and allow your business to thrive and grow. You can also download Hyphen's Step-By-Step Guide To Building A Stronger Business with Home Builder Management Software to learn more.