Hyphen Solutions Offers Advanced Functionality for the Field Management Services (FMS) Application
Hyphen Solutions customers using the FMS app are now able to seamlessly manage orders from suppliers and vendors outside the BuildPro system.
DALLAS, September 28, 2017 /PRNewswire/ -- Hyphen Solutions, the leading cloud-based construction management software company, with over 11,000 companies subscribing to its comprehensive Builder and Supply Chain platform, announced enhanced functionality for its cutting-edge application, Field Management Services (FMS).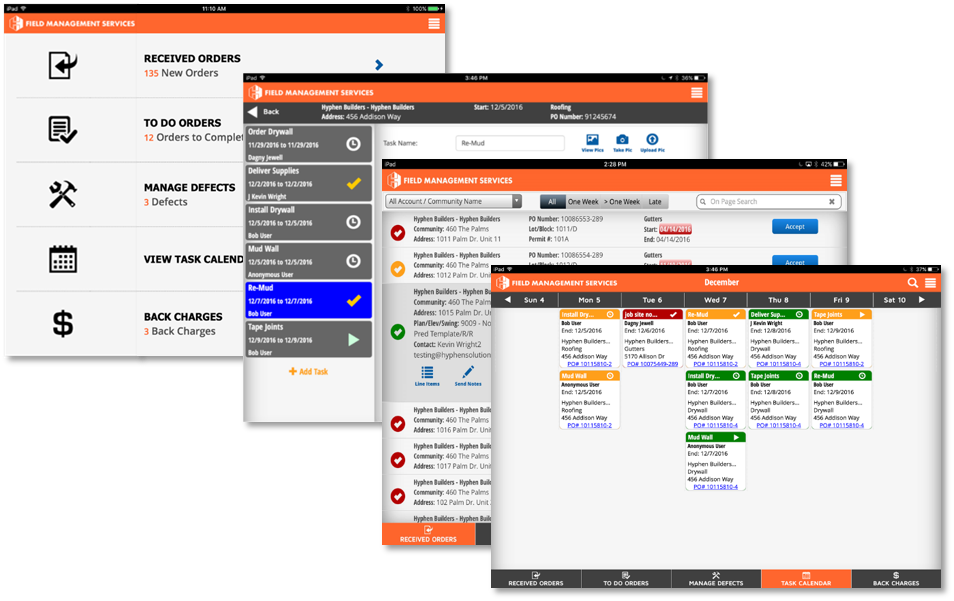 Designed to streamline the way home builder trade partners and suppliers operate in the field, FMS provides a mobile approach to not only more efficiently manage orders and communications while on job sites, but also create and drive their own tasks and schedules. It also includes the advanced interface that an app can bring such as drag & drop functionality and visual indicators.
One of the key advantages of the FMS system is its seamless integration with the BuildPro & SupplyPro supply chain management and collaboration platforms that Hyphen has built. This new capability builds upon that approach so that orders can now be included that do not necessarily come from builders using the BuildPro system. Orders can be inserted manually for one-off projects or highly custom builders, or they can be automatically built in using Hyphen's Renditions approach of web-capturing order data.
The full mobile functionality of the FMS app can then be employed to accomplish "disruptive," 2-way communications with builders, manage defect repairs and back charges, and drive the set of tasks and resources that these suppliers need to fulfill the orders. Randy Beeman, Hyphen's Division President of Supply Chain Solutions said of this new capability, "this was a critical add for our FMS product, as we want customers to be able use it to manage all of their orders and work that they're doing with all of their builders. We can now say that any order or project can now be seamlessly directed with a single app, from the field."
Hyphen continues to build on its leadership in the homebuilding supply chain management technology space by improving products with new innovative features. Hyphen Solutions unique web-based platform enables its customers to improve collaboration throughout the entire home building supply chain.
About Hyphen Solutions
Hyphen Solutions provides more than 70,000 builders, installers and manufacturers with industry-leading supply chain scheduling, procurement, and collaboration solutions. Hyphen's software-as-a-service delivers greater operational control, better communications, lower costs and increased productivity for home builders, sub-contractors and suppliers. More than 12,000 companies subscribe to Hyphen's comprehensive Home Builder and Supply Chain platforms, making the company the leading cloud-based construction management software provider. The Hyphen Network serves more than 450 builder divisions which managed more than 270,000 new home construction projects with the system in 2018. The Network issued more than 27 million purchase orders last year totaling in excess of $36 billion for residential construction.