Construction Analytics and Reports You Need, When You Need Them
While many Builders have an abundance of data, they don't have the right tools to organize and analyze it in meaningful ways to improve and streamline projects. Repetitive reporting, reliance on multiple data systems, disorganized data, paper-based reporting and a lack of system connectivity are all barriers to utilizing data to your benefit. A construction analytics solution that is an integral part of existing residential construction software eliminates a wide array of project management headaches, while reducing the risk of projects being late and over budget. BuildPro's Report Connect construction analytics software, an integrated feature of Hyphen's flagship product BuildPro, provides data-driven answers to Builders' most pressing questions in an intuitive and easy-to-use format.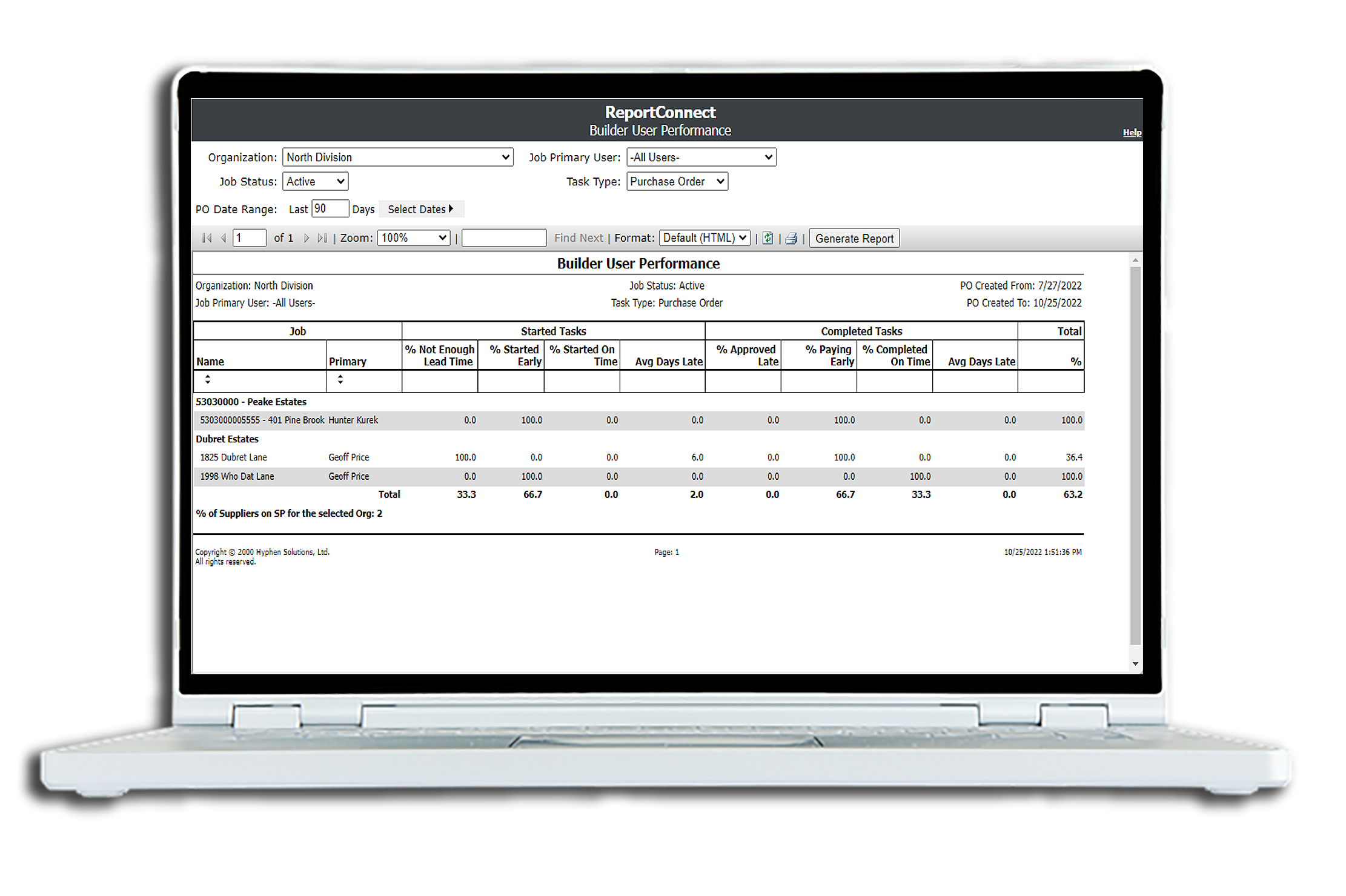 Report Connect allows Builders to easily analyze data to make informed business decisions regarding specific home building operations. Builders can export, modify and publish residential construction reports faster than ever before, as well as track, monitor and report on diverse performance indicators from the user-friendly dashboard. Report Connect makes it easy to make immediate changes for improved operational efficiency, safety and profitability. Using subscription services to schedule reports allows accurate delivery of the right reports to the right stakeholders with a push of a button. With a wide range of standard construction reports readily available at your fingertips, you'll be able to optimize the time spent analyzing key data, better manage overall business operations and identify new opportunities for growth.
Schedule a demo to see how robust construction data analytics in BuildPro Report Connect deliver invaluable insights to improve time management and project processes for a healthier bottom line.
Reporting & Analysis Made Simple

You can export, modify and publish reports faster than ever using Report Connect's intuitive, user-friendly dashboard, giving you enhanced analytics, field export and corporate reporting options.

Exporting & Sharing

Report Connect makes it quick and easy to export your custom reports to Excel, so you can merge that data with other existing data that you may have on hand. Just like the rest of the BuildPro suite, Report Connect is built to work in tandem with other systems, only further adding to your existing tools rather than having to replace them.

Subscription Services

Take advantage of Report Connect's subscription services to schedule reports with the push of a button. You can trust that key reports will be delivered to who needs them, exactly when they need them.

Standard Reports

Based on our experience with working with many Home Builders, we have created over 50 standard reports that can be used in just about every facet of your operation. These standardized digital reports provide you with an efficient residential construction analytics solution that always looks professional.

Rest Assured

Eliminate the fear of losing valuable information with full disaster recovery and hardware protection. Recovery systems and protection can be a Builder's best friend when disaster strikes. Your information will always be at hand when you need it most.

Seamless Integration

Report Connect, a part of BuildPro, easily integrates into many of your existing systems, making it easier for you to start using it quickly and easily. Being a part of the BuildPro suite means you'll understand how to navigate this tool from the moment you first use it—and enjoy doing it.
Schedule a Report Connect Demo
See how easy-to-use and insightful Report Connect is by scheduling a demo with a Hyphen Solutions expert. We'll walk you through the features and show you just how powerful a true home building analytics software platform can be.
Schedule a Demo