GAIN VISIBILITY INTO PAYMENTS AND INVOICES
Hyphen Wallet provides home builders a window into their construction billing data and into every payment executed to their trades by updating their back-office ERP with real-time payment status. Hyphen Wallet allows suppliers to view payment reports in SupplyPro and download them into Excel for further analysis. Now suppliers can be easily connected to the home builder's payment system.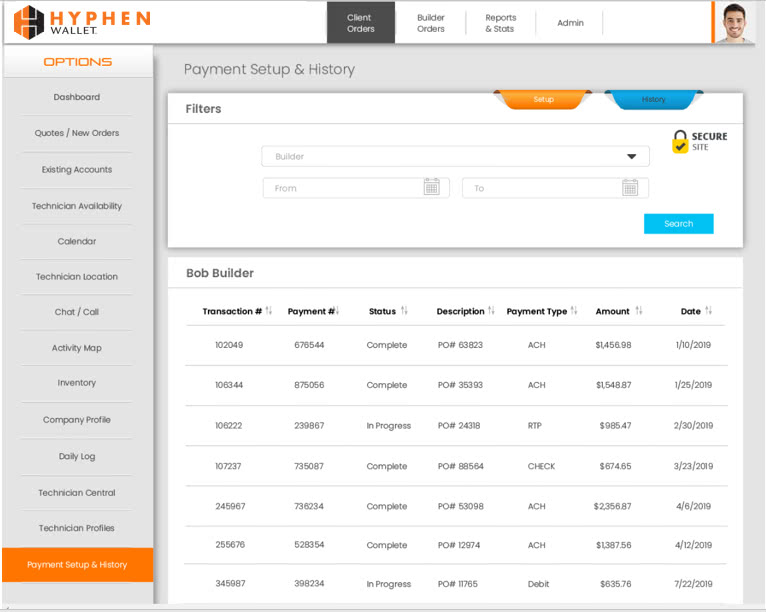 AUTOMATED BILLING AND PAYMENTS SAVES TIME
Automation works to improve the billing, invoice and payment process between builders and trade contractors; making it easy for the builder to check records, track past and present expenses and identify fraudulent charges much faster. Reduce invoice processing time by over 80% and invoice errors by 23%.
REAL-TIME DATA FLOW
Instant reconciliation within Hyphen Wallet ensures a fast, accurate financial close cycle, improves cash flow visibility and working capital management and reduces potential fraudulent payouts. Combines payment methods, currencies, subsidiaries, and regions using payment integration that's real-time and available 24-hours.
REDUCE FRAUD AND INCREASE SECURITY
Having visibility into all transactions by the builder, suppliers, trades and contractors, payments can be verified and tracked throughout the payment process. Moving to an automated construction billing and payment software reduces the possibility of error by fraud or lost checks in the mail. Replace risk and fraudulent activity with enhanced security.
Hyphen Wallet Product Features
Offers more ways to get paid (ACH, Check, Real-Time Payment, Debit Card, Hyphen Debit Card, Wire)

Suppliers can change the way they get paid multiple times as opposed to a one-time decision at set up

Enhanced security and real-time funds availability

100% paperless

24/7 accessibility into funds and status of payments

Real-time messaging and transparency

24/7 always-on service

Enhanced security

Prevent and detect AP fraud

Verify vendors

Auto reconcile accounts and transactions

Conduct unscheduled audits
FIND OUT WHAT YOU'VE BEEN MISSING
Comparing Hyphen Wallet to Legacy Bank Transfers
With Hyphen Wallet You Get:
Streamline bank reconciliation process
No longer need to store bank information for your suppliers
Eliminate the frustrating and time-intensive task of doing it by hand
Makes it easy for the builder account receivable team to record checks
Track past and present expenses
Enhanced security
Identify fraudulent charges faster
Real-time payment system with data and messaging capabilities
Reduce the costs of issuing and processing checks
Integrates better with growing account-based payments of global supply chain
Staying with Legacy Bank Transfers Gets You:
Longer wait times for settlement and information
Multiple spreadsheets
Printing current and past bank statements
Verifying invoice data by tracking down documents in a filing room
Staff should do it regularly to keep up with their finances and prevent unauthorized payments from processing
Increasing costs for check usage
Higher susceptibility to scams
Don't Get Left Behind
Sticking with current legacy construction invoice and payment systems can prevent your business from potential opportunities. What did 120 organizations say about factors driving change for payment management systems?
Need to improve efficiency of the invoice payment management system
Need to respond to technological innovations
Need to reduce systemic risk
Market demand for better payment system/settlement services
End-user demand for better payment/settlement services
Government demand or better payment services
Make Sure Your Billing and Payment Systems are Compatible
with Current and Future Suppliers