Software Solutions for Home Builders
Interested in Learning More About Our Product Suite?
Connect with one of our Sales Professionals to explore the best solutions for your business!
Software Solutions Built for Home Builders,
By Home Builders
Hyphen Solutions delivers software for Home Builders to collaborate with Suppliers and Trades more efficiently and effectively since 1999 and is trusted by the majority of top North America Builders. We are here to help you streamline processes, cut down on build times, automate reporting, provide transparency, reduce human error and so much more.
BuildPro: The Largest Home Construction Supply Chain Management Software in America
BuildPro connects home builders with contractors, trades and suppliers during the home building process, all on one easy-to-use platform. BuildPro takes residential construction scheduling and supply chain management online, providing real-time information with greater accuracy and efficiency from any device, anywhere. Execute home build projects in less time with less effort than ever before by using BuildPro to receive and approve bids, schedule suppliers, approve purchase orders, automate the build process and more.
By easing supplier communications and removing risk, BuildPro makes your job much easier, freeing up time to focus on taking care of what's important: your business.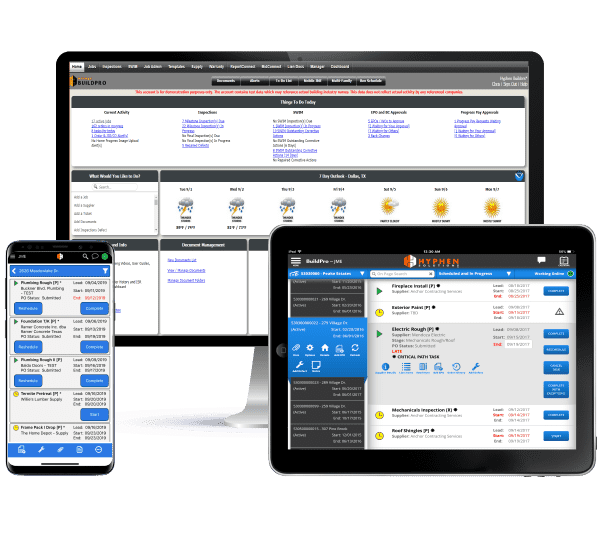 More Home Builder Software Solutions
Hyphen Solutions offers a variety of products to fit the unique needs of all home builders, and their varying business models.
Are you ready to take your business to the next level?
See why so many Home Builders are joining the Hyphen Network of over 750 Builder divisions that trust Hyphen Solutions today. Join over 17,000 Suppliers, Contractors and Trades collaborating with Builders to build 1 out of every 3 homes in America with Hyphen Solutions.
We are looking forward to chatting about all things residential construction software with you!
Get started today!
Stephen Candy, Division President, Builder Solutions