How Home Builders Can Streamline Sales and Marketing With CRM Software
To make an informed decision about the best CRM software to fit your needs, it's essential to understand the basics. So, what is a CRM software? Customer relationship management technology is software that enhances the ability to organize all your contacts, including prospects, customers and other connections. The best Home Builder CRM software includes the latest technology and tools to build relationships, optimize customer acquisition and increase sales cycle efficiency. For Home Builders, a CRM that keeps track of both broker/real estate agent and Homebuyer relationships is essential since 88% of all home sale transactions involve a broker/real estate agent. Selecting top CRM software built specifically for Builders will enable you to improve relationships, streamline processes, increase profitability and stay ahead of the competition!
Features to Look for When Choosing a Home Builder CRM
Centralized Sales Cycle Management
A solution that automatically pulls customer contact information from your website into the CRM ensures accessing accurate sales and marketing data, thereby saving time and eliminating human error. It also provides the ability to easily create notes, send emails, log calls and manage sales and marketing tasks directly from the CRM database to potential Homebuyers and real estate agents. If you currently use a Builder ERP, it's important to make sure the CRM seamlessly integrates with your existing system.
Scalable Flywheel Solution
A traditional construction CRM for sales and marketing encourages agents to apply pressure to push customers through the funnel as quickly as possible. While the funnel has been the backbone of sales strategy for years, it's good at creating new customers but not a sustainable model for keeping them loyal. The flywheel model is based on an inbound methodology that attracts new customers by providing valuable products and content focused on their needs. The flywheel model incorporates attract, engage and delight stages to build a positive continuous relationship—as opposed to a quick swipe, push and move-on philosophy employed by the funnel approach. This type of CRM is more scalable for long-term use.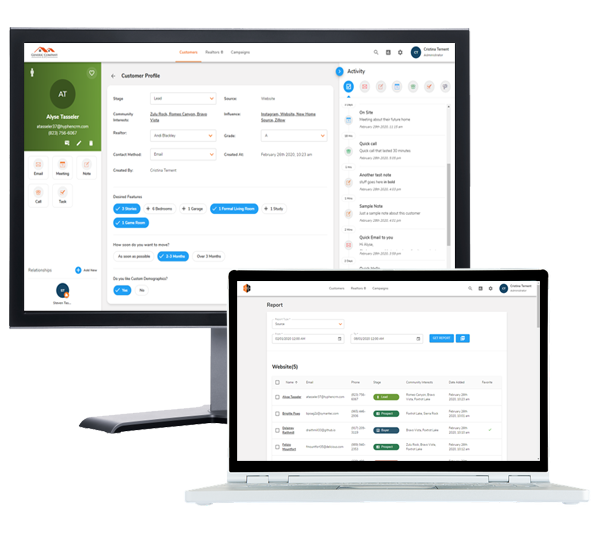 Workflow at a Glance
A residential construction CRM that enables you to quickly view and visualize your new home sales and marketing processes and track steps with prospects ensures they're adequately nurtured throughout all stages of the home buying journey. From capturing leads and setting up on-site appointments to Homebuyers moving-in to their new homes, you'll be able to stay on top of every detail.
Integrated Campaign Management
Generating and managing marketing campaigns within the CRM, including personalized newsletters, one-off promotional emails or drip campaigns streamlines marketing efforts and provides insights into your campaign performance. By advertising move-in ready homes, community-specific announcements and sales incentives via the CRM, you'll deliver the best experience to your customers.
Hyphen CRM Helps Home Builders Streamline Sales and Marketing
As a Home Builder, an extensive portion of your budget and resources are dedicated to sales and marketing efforts. You deserve a well-designed CRM that increases Homebuyer and realtor satisfaction and leads to more referrals. Hyphen CRM integrates with Hyphen HomeFront and BRIX ERP systems to ensure accurate messaging and a seamless flow of information throughout the Hyphen Builder product suite.
Hyphen CRM will help you capture and manage leads, create notes, send emails/email blasts, log calls and manage tasks from a centralized platform for a seamless front-to-back customer experience. Schedule a demo to learn more about how the top CRM software built with Builders in mind can improve your bottom line!