How To Select Home Builder Construction Management Software
Home building is unlike other industries. It involves a large cast of stakeholders, remote work locations, non-standard processes and a need for virtually faultless collaboration. Although construction companies sometimes address functions like accounting or customer relationship management (CRM) with generic business software, these programs can't provide the specialized functionality you need. In addition, departments within a company sometimes choose their own tools that may not connect easily to other software programs within the company, but this can cause major problems in data/information transfer that may complicate rather than simplify your team's tasks.
However, there are Home Builder management software tools that are simple to use and effectively enhance productivity — ERPs.
What is an ERP?
ERP stands for Enterprise Resource Planning software, and these systems create a common home base to integrate with other systems. When they are designed specifically for Home Builders and Suppliers, they can perform all of the functions you need in residential construction. If your construction company is ready for an effective technology tool, here are four actions that can help you make your choice.
1. Complete a Checklist of Your Needs
One of the first steps you need to take in choosing the right ERP tool is to determine your needs. How many homes do you build annually? Would you rather have a cloud-based or on-site system? What specific needs do your departments have? For example: Does Accounting want to automate tax calculation? Does your Sales Team need sales quotes or contract management? Do you need take off and job costing capabilities? Do you have Warranty needs? An ERP Selection Checklist like the one we've developed for our two ERP systems — BRIX and Hyphen Homefront — can help you narrow down your choice.
2. Do Your Research on How Technology Tools Can Boost Efficiency and Collaboration
Home Builder construction management software makes projects run more smoothly by helping you:
Automate repetitive tasks
Ensure everyone on the team is working with the same information
Prevent project delays, cost overruns and client or supplier dissatisfaction due to poor information exchange
Gather and analyze data that can lead to process improvements and better future profitability
One of the most important roles technology can serve is similar to a "hyphen" in a sentence — connecting multiple stand-alone entities to perform a task together. Your salespeople, office accounting staff, construction managers, trades, vendors and customers can all be connected...in real-time. Plus, they can all tap into a single database for timely and accurate information. It's as effective as gathering everyone together in a room, but much more efficient.
Our Step-By-Step Guide To Building A Stronger Business with Home Builder Management Software can explain more about how to use ERP tools to support your business.

3. Understand the Functions You Can Upgrade with Home Builder Management Software
By using an ERP and integrating additional modules and software tools, you can upgrade functions across your operations:
Sales and Marketing
Customer Service
Bidding and Purchasing
Accounting
Project Scheduling
Document Control
Real-time Jobsite/Field Management
Inspection Management
Lien Release
Warranty Service
You may discover that technology can help with functions you hadn't even considered yet.
4. Understand the ROIs for Your Business
Most large Home Builders are already taking advantage of ERP technology to integrate their processes. However, if you are a small to mid-sized construction company, you may wonder why you should make the investment. What exactly do you have to gain?
The returns you should expect from your investment include increases in collaboration, transparency, cost savings, resource allocation, financial forecasting, data-based decision-making, productivity and more.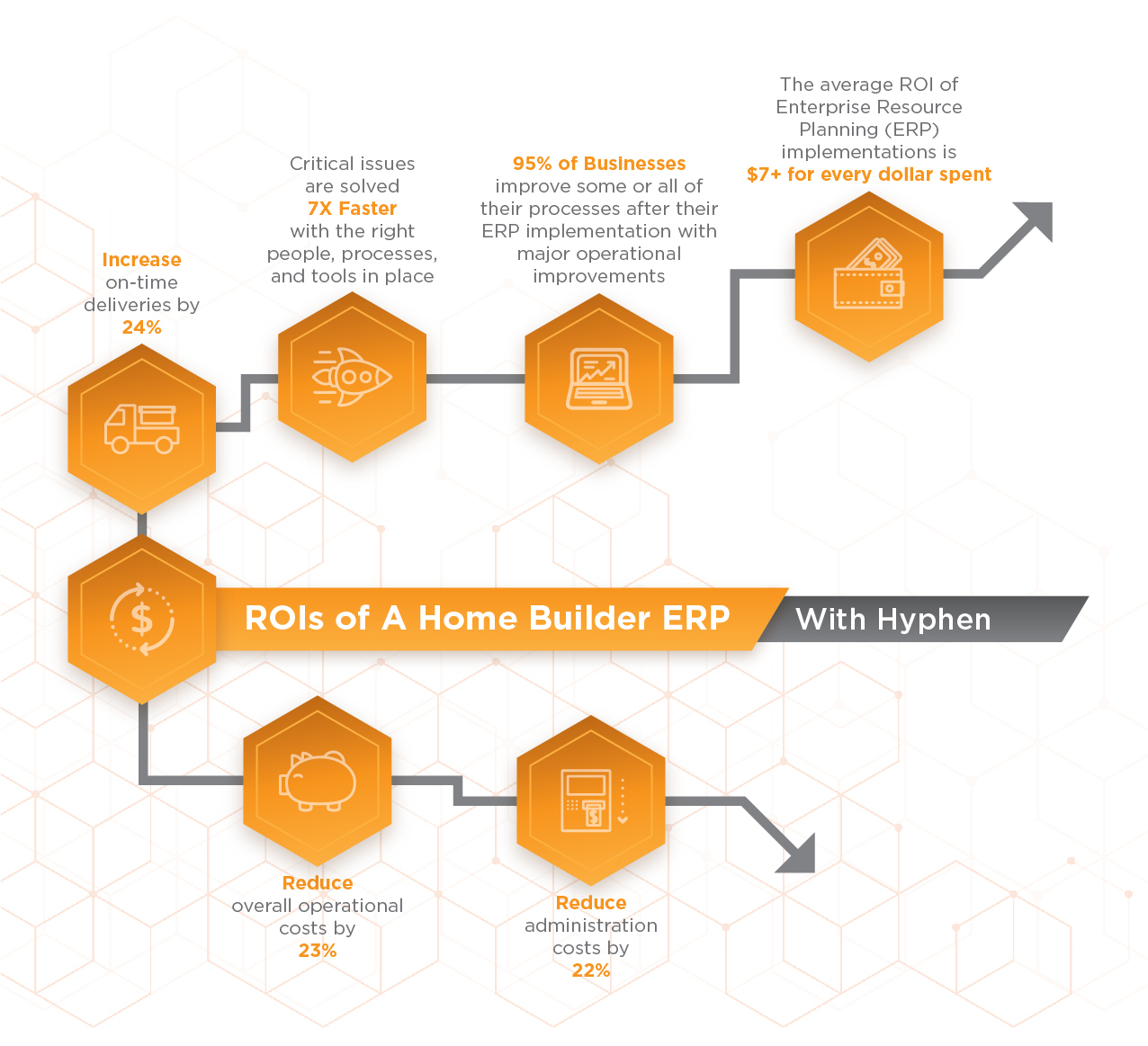 Select The Right Home Builder Management Software With Hyphen Solutions
Properly selecting Home Builder Management software like Hyphen Solutions' BRIX or Hyphen Homefront can help you build homes efficiently, sell homes quickly and grow your business in a competitive industry. To learn more, visit hyphensolutions.com and download Hyphen's Step-By-Step Guide To Building A Stronger Business with Home Builder Management Software.