SupplyPro: Connecting Builders and Contractors
Designed specifically for Suppliers, Trades and Contractors, SupplyPro is the digital backbone of the residential construction industry.
With simple interfaces to manage and track jobs, orders and schedules for all your Builder clients in one portal, it's easy to see why 17,000+ Suppliers collaborate with 90% of the national Builders and hundreds of regional Builders in SupplyPro to build 1 out of every 3 homes in America.
SupplyPro By The Numbers
*Statistics reflect the year 2022
SUPPLYPRO VENDORS & TRADES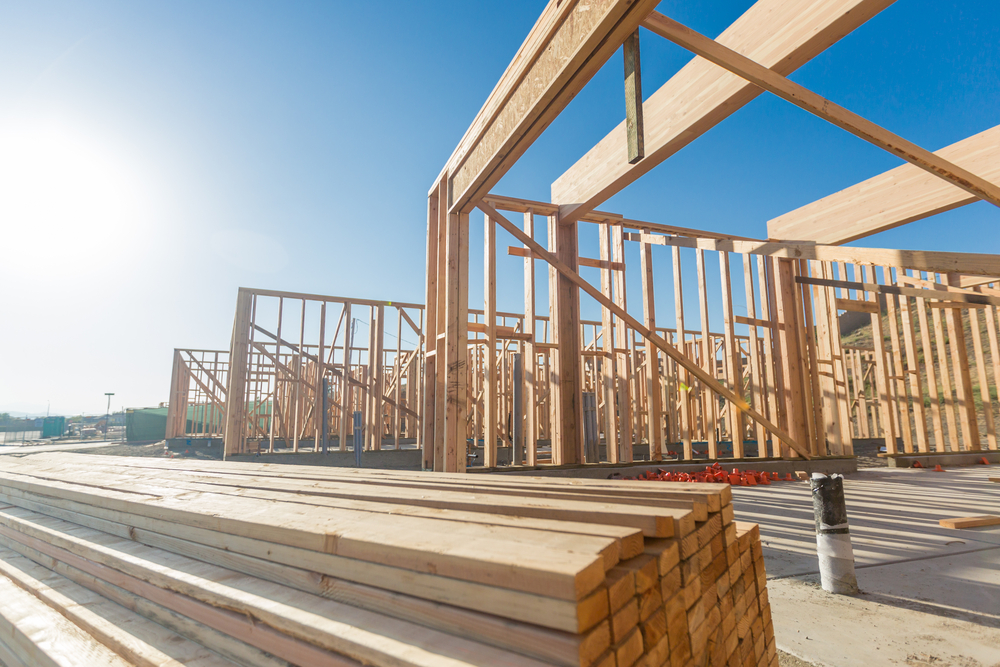 See How SupplyPro with Hyphen Wallet Helps Corey Construction Streamline Accounts Receivable (AR) Processes
"As a longtime user of SupplyPro and now Hyphen Wallet, we greatly appreciate how Hyphen Solutions continually innovates by launching robust tools that streamline processes for any size Supplier as they grow and build their brand."
---
Hyphen Wallet features an easy-to-use portal that integrates seamlessly with SupplyPro, including the ability to track, reconcile and report payments.
Learn More About Hyphen Wallet
One Convenient Portal for all your Builder Information
The complexity of completing a residential construction project goes well beyond getting the right materials and crafts to the site in a timely and accurate manner. Many details can change over just a few hours and where the builder maintains the information, the supplier must maintain vigil tracking of the work in progress and relay it to trades, sales and back-office personnel.

SupplyPro interacts with Hyphen's widely utilized BuildPro solution for builders to facilitate real-time communication between builders and contractors. This joint solution for builders and contractors provides a common platform to streamline collaboration from the builder to your back-office and field personnel. Suppliers have a real-time view of future schedule obligations, completed work accepted (as well as in-progress and potential work) by each job, superintendent and actual builder. All of this information is available on the user's mobile device and desktop.

With SupplyPro, streamline planning, scheduling and accounting to better manage your business.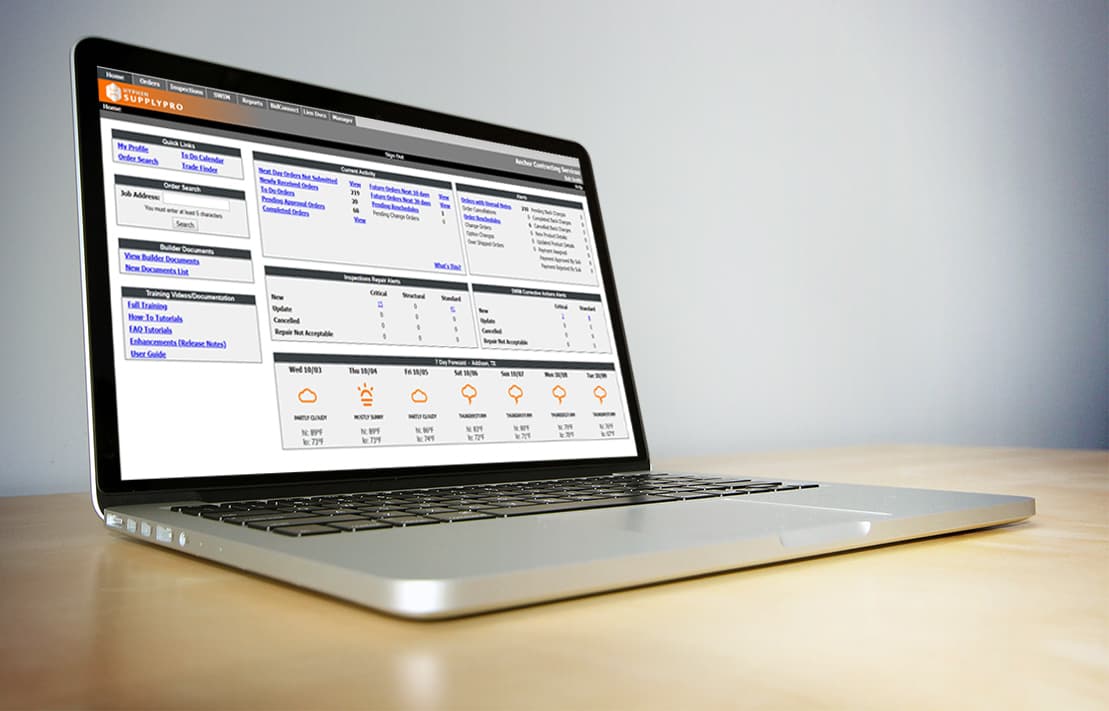 How SupplyPro Improves Efficiency
DIRECT CONNECTION TO BUILDERS

SupplyPro is custom built to communicate with the BuildPro network of the top North American Home Builders building 1 out of every 3 homes in America. With SupplyPro, communication happens in an instant, and there is a record of every update, order, message and interaction to keep processes running efficiently and saving all parties time and money.

NOTHING TO INSTALL

Everything is accessible instantly online, in a secure cloud-hosted environment. All updates are pushed to SupplyPro instantly, so your software is assured to be up-to-date at all times, without you having to lift a finger.

LIEN RELEASE OPTIMIZATION

SupplyPro automates lien release processes to the point of peak efficiency. By using electronic signatures, transactions occur instantaneously and all documentation is saved digitally for clear, concise record keeping. There is no more printing, faxing or filing. The receipt of receivables and checks has never been faster.

STREAMLINED ORDER MANAGEMENT

Optimized scheduling, communication, accounting and reporting all combine to ensure that you are paid correctly and promptly. Being a digital, cloud-based solution, there are no opportunities for miscommunication between builders, trades and your internal team.

EFFICIENT DOCUMENT MANAGEMENT

A core feature of SupplyPro is the digital asset repository, which creates a single portal for all communications with builders. This high-security library of your digital documents has strict controls over who can access what, records updates automatically and leaves a comprehensive trail of adjustments. All in all, we're taking the guesswork and miscommunication out of residential home building documentation.

EFFECTIVE BIDDING TOOLS

Hyphen's BidConnect, which is free for suppliers, allows you to have instant access to builder bid requests and allows those same builders to vet you against the competition, even if they've never worked with you before. This invaluable tool can help your business grow its footprint with the best builders in the industry today.
Access From Anywhere
At Hyphen Solutions, we want suppliers to be able to use our supply chain management solutions to their fullest extent. Our professional services team has the expertise necessary to partner with you to help implement our solutions, develop new tools and build customized reports.
SupplyPro Product Features:
BIDCONNECT

---

We've eliminated the stress that comes with the bidding process. With BidConnect, you no longer have to wade through stacks of paper to generate bid package responses. Reduce manpower costs and erase human error with this powerful and efficient supply chain management software. Integration with SupplyPro and BuildPro assures everything you need to manage bids quickly and easily.

TRADE FINDER

---

Hyphen Trade Finder is a free platform builders use to find suppliers. Your listing will allow you to provide your business and services to a broad base of home builders. Complete your company's profile, such as areas of expertise, area codes of operation, years of operation, number of employees, promotional statements and more, to drive new business.

ORDER MANAGEMENT

---

Managing orders and communicating quickly with home builders is key to maintaining a profitable, efficient business. Suppliers can view job schedules in real-time, receive prompt and accurate schedule and change notifications, view purchase order information, access job documents and invoice efficiently. In doing so, we've created a real-time connection that keeps you up-to-date so orders are being paid correctly and on schedule.

DOCUMENT MANAGEMENT

---

Hyphen Solutions' Document Manager empowers suppliers to digitally centralize all necessary documents within their organization via the cloud. This reduces costly and time-consuming processes surrounding physical print production, increases security and minimizes mistakes.

LIEN RELEASE

---

The ultimate goal of Lien Release is to automate lien processing to the point of absolute efficiency. First, by merging payment data into a user-selected lien document, then by automatically sending the document to your SupplyPro dashboard, the lien process has never been faster.

SupplyPro GM, the Next Generation of SupplyPro
SupplyPro GM is a cloud-based software solution specifically designed for residential contractors, trades and suppliers. Successfully manage large volumes of construction jobs with ever changing scopes and schedules and automate your workflow with real-time communication between office, field and builder.
Yes, I want to learn more about SupplyPro GM